Planning an event, shopping for custom fashion accessories, or organizing a fundraiser? Custom wristbands are excellent wearable items for your customers, attendees, or guests. They are affordable, customizable, and comfortable for single use or extended wear.
If you want custom rubber wristbands to promote your company or share an inspiring message, silicone wristbands are incredibly budget-friendly and offer a polished, premium look and design. Or maybe you're searching for a classic wristband made from paper or vinyl for a trade show or concert. Custom wristbands add a cohesive feel to any event without breaking the bank.
Let's explore the factors and features of custom wristbands and how those affect the overall price. At the end of this blog, you can determine the number of bracelets you need that fit your budget, the style and material you want, and any add-on that will pack a punch.
Popular Wristband Materials

Quite a few materials are used for customized wristbands and bracelets, and the different materials vary in price and quality. Here are the most common and popular materials used for custom bracelets.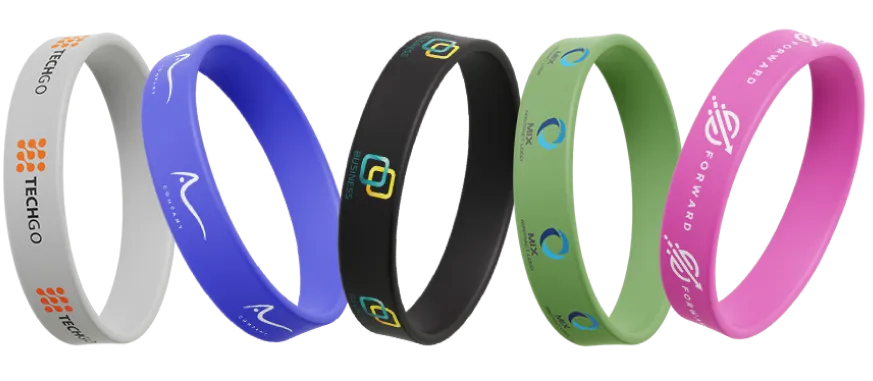 Silicone Wristbands
Due to their durability, silicone wristbands are the most popular. Silicone wristbands, sometimes called silicone bracelets, are flexible, waterproof, and in various colors and styles.
Silicone wristbands are often used for promotional purposes, charity events, company retreats, and fundraisers. Because of their popularity, silicone rubber wristbands are a great affordable option for businesses, nonprofits, schools, teams, and other organizations. Silicone bands can be customized with colors, small graphics, and text.
Plastic Wristbands
Plastic wristbands are lightweight, inexpensive, and available in many colors. These bands come with a plastic snap to fasten or a peel-off sticker.
Plastic wristbands are made from vinyl or polyethylene and are disposable, making them suitable for day events, including festivals, concerts, and theme parks.
Tyvek Wristbands
Tyvek wristbands are made from high-density polyethylene material. Tyveks are durable, tear-resistant, and water-resistant. They're perfect for multi-day events at pools, water parks, lakes, and other water activities.
Polyester Wristbands
Polyester fabric wristband comes from materials like polyester or nylon. They are comfortable to wear for long periods and can be customized with company logos, branding, or unique text. A fabric wristband is a classic wristband used at sporting events and trade shows or sold as souvenirs.
Vinyl Wristbands
Vinyl wristbands are similar in appearance to Tyvek and plastic wristbands but are more durable. They are made of multilayered vinyl for maximum durability and are often used for multiday events because they withstand wear and tear.
Metal Wristbands
Metal clip wristbands are made from stainless steel, aluminum, or other safe and gentle metals on the skin. The metal clip is mounted on a silicone bracelet and can be customized with engravings. They are utilized for exclusive, high-end events or can be adorned as jewelry.
USB Slap Wristbands
Custom USB slap wristbands are custom silicone wristbands with a USB attached. They are ideal for conferences, company retreats, and trade show giveaways. Typically made from silicone and metal, USB slap bands are unique, multifunctional giveaways.
Slap Bands
Slap bands are made from stainless steel spring bands covered with silicone, fabric, or plastic. They're popular silicone bands for youth events like sports matches and settings like theme parks.
As their name suggests, slap bands effortlessly coil around the wrist with a simple, light-force slap, ensuring a snug and comfortable fit. They can be customized with your brand's colors, logo, clip art, and message.
Popular Print Styles for Personalized Wristbands
Whether you're creating ink-filled or debossed wristbands for your event or brand, the various print styles available at Wrist-Band affect the overall price of the order. Let's break down the different printing styles and how they factor into the price of wristband orders.
Ink-Filled Wristband
Typically printed on custom silicone wristbands, the ink-filled style creates an appealing indented effect in your preferred color. The message on these wristbands appears recessed, ensuring its visibility day and night.
Debossed Wristband
Debossed wristbands offer an understated yet highly impactful way to deliver a message. The recessed text aligns beautifully with the overall color of the wristband, enhancing its visual appeal. Crafted from durable silicone, these debossed wristbands bear stamped messages, making them an ideal accessory for various events.
Embossed Wristband
Embossed wristbands are a classic wristband that exudes sophistication and fun. The embossed style on silicone wristbands creates a protruding message to add depth and visual appeal. Many organizations choose to emboss their custom rubber wristbands for an eye-catching flair.
Full-Color Wristband
Full-color rubber wristbands are imprinted using superior-resolution ink colors, perfectly exhibiting intricate designs and logos with the utmost clarity. The vibrant hues guarantee that your logo, name, or message commands high visibility, ensuring your brand leaves an unforgettable impression at your event.
Considerations When Ordering Wristbands
The wristband prices can vary based on several factors determined by your input on the order form. These factors include the following:
Size: Different sizes may have different costs.

Color: Certain colors may be priced differently due to variations in manufacturing processes or availability.

Quantity: The quantity of wristbands you order can impact the price. Generally, purchasing larger quantities results in a lower price per wristband due to economies of scale.

Style: The customization options you choose for your wristbands, such as debossed (engraved), embossed (raised), ink-filled, or other customization features, can also affect the price. Some styles require additional production steps, materials, or expertise, which may lead to higher costs.
Considering these factors, inputting your desired size, color, quantity, and style choices is important to receive an accurate pricing quote for your wristbands.
Let's explore a few of the most impactful ones in detail.
Sizing
Some of our wristband materials come in varying sizes and thicknesses to cater to a wider audience at any event. While we carry standard sizes for a classic wristband, we offer thinner and thicker options for our custom silicone wristbands and other styles.
For example, our silicone wristband sizes include the following:
¼ inch (skinny)

½ inch (classic wristband size)

¾ inch (standard pro)

1-inch (large)

1.5 inch (wide)

2-inch (ultra wide)
Quantity
When shopping for a wristband, the more you buy, the more you save. The larger quantity you purchase, the more cost-saving you enjoy.
As you buy more wristbands in a single order, the cost of each wristband decreases. To illustrate, if you buy just 1 wristband, it would cost $25.98. But if you purchase 5 wristbands together, the price per wristband goes down to $12.24.
Add-Ons
Each type of classic wristband has unique add-ons. For example, our custom silicone bracelets include the option for individual bags, which some companies choose when they are ordering smaller quantities for a more personal touch.
Additionally, you can add glitter, a detachable keychain, and other packaging options to elevate your plastic, vinyl, or silicone bracelets.
Delivery
How swiftly do you need your wristband order? Wrist-Band provides a seamless ordering process and standard and express delivery options, ensuring your high-quality wristbands arrive promptly without any complications.
You can select your desired manufacturing, printing, and delivery options during checkout. The production timeline will be determined based on your selections.
Pricing Your Custom Silicone Wristbands for Optimal Sales
Whether incorporating the wristband cost into the event ticket price, as done at music festivals or water parks, or selling the wristbands separately, there is immense profit potential with customized wristbands.
Many attendees won't think twice about shelling out between $5 and $7 for custom silicone bracelets, especially given the excitement surrounding the event. Spending less than $10 on an accessory that adds to their event experience is viewed as money well spent.
For example, if you spend $71 to produce 200 custom silicone wristbands for your event and sell each one at $7, you stand to make a profit of $1,329 if all your inventory sells out.
Affordable and popular, custom wristbands make excellent paid merchandise for different events. They also facilitate extensive distribution, given their low production cost and potential for high-volume manufacturing. Their customizable nature, allowing for messages and prints tailored to suit any need, marks wristbands as a profitable fundraising method.
Complete Your Customized Wristband Today
Customized wristbands are versatile accessories that are easy to order and are budget-friendly for most events and organizations. If you need wristbands that make a statement, look no further than Wrist-Band. From fabric, metal, and vinyl to plastic, silicone, and rubber wristbands, we have the most extensive inventory of styles, colors, and materials to meet your needs.
Order your custom wristband now, browse our online shop, or contact us at +1-877-536-8500. You can also email us at sales@wrist-band.com for more information on all our products. We look forward to working with you!